NEPAL PERINATAL QUALITY IMPROVEMENT PROJECT [NEPERIQIP]
Sunday October 1, 2017
Capacity Building Training of Health Workers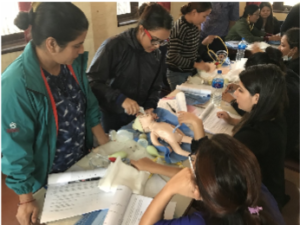 As part of the NePeriQIP implementation in the hospitals, all health workers working in different perinatal units (Labour Room, Post Natal Ward, SNCU/NICU, Paediatric Ward) are trained through a three-day training package developed for this project. The three-day package includes two days of clinical updates followed by one day of Plan, Do, Study, Act (PDSA) used as a Quality Improvement (QI) model. The training has successfully completed in 6 hospitals and will cover 6 more hospitals, covering a total of 12 hospitals under the project.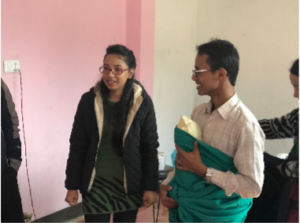 The training will capacitate health workers, mostly midwives and nurses, in neonatal resuscitation (Helping Babies Breathe), Kangaroo Mother Care (KMC), Breastfeeding and Infection Prevention & Management and orient them on the PDSA model. The facilitators will be the primary trainers with 2-4 of them in each hospital based on the hospital size. Besides, trainers from Child Health Division (CHD) and Lifeline Nepal will also assist during the training.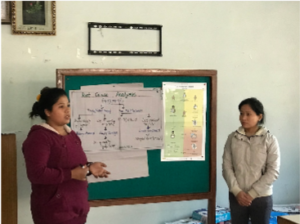 The training package will be provided in different batches depending on the number of health workers with an average of 20 health workers in each batch. This will be provided in the hospital itself. The training will allow health workers to get an insight of the current perinatal health care status and also prepare them to address those issues in their respective units. The PDSA model will be helpful in identifying problems and finding appropriate solutions through maximum resource mobilisation and tracking of progress.
The training will also help in making each and every health worker accountable through program tracking, measurement and review of activities through use of QI tools and PDSA meetings. Progress boards and self-assessment checklists will be provided after the training to track all newborns and update their skills while regular PDSA meetings (every week for first 3 months, every biweekly for next 3 months and every month for last 3 months) will allow for better management and accountability.
The training package is aimed at improving health workers' performances through better accountability, cohesion and improved statistics. A refresher training will be provided six months after the initial training to all health workers based on the needs of health workers.
Causal/Bottleneck Analysis and On-Site Planning Workshop
A two-day Causal/Bottleneck Analysis and On-Site Planning Workshop is conducted in the hospital itself and includes a range of hospital staffs from hospital director, clinicians, paramedics, nursing staffs, administrative staffs, laboratory staffs and store keeper. The workshop will be organised by the Qi Facilitators and facilitated by Child Health Division (CHD) and Lifeline Nepal. A total of 6 workshops have been completed until now and is slated for 6 more in the near future.
The workshop is the first step of the 9-months Implementation Phase and is valuable in identifying different bottlenecks for providing quality perinatal health services in the hospital. The main objective of the workshop is to sensitize the hospitals staffs regarding the importance of quality of care in perinatal services.
The workshop is crucial in highlighting the need of quality of care, especially in perinatal care to help improve the health outcomes of neonates through better health care services right from admission until discharge. The workshop aims at bringing together different spheres of professionals for identifying a common goal in reducing perinatal mortality and morbidity.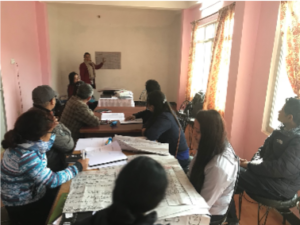 A prior health service readiness assessment is done of the facilitators after the seven-day training. The tool has been developed by our team based on WHO standards and the findings will be shared in the forum to get an overview of current status of the hospital for providing perinatal care services.
The participants is then be divided in three groups as below:
A. Group 1: Availability of services
B. Group 2: Human Resources, Governance and Financing, Health Information system
C. Group 3: Infrastructure, equipment and supplies
The groups work on listing problems based on the topics provided and do a root cause analysis to identify the main reasons why the issues prevail. A template has been designed to guide the process.
After they have done so, the groups work on the causal matrix in identifying possible solutions for the identified issues and then finally develop an action plan detailing the timeline, responsible person and resources required to address those issues. The groups then present the findings in front of the groups for discussions and feedbacks.
The workshop is an important platform for the hospital to identify and discuss on the prevailing roadblocks. Some of the workshops have also been effective in initiating immediate actions and results have been seen accordingly.
QUALITY IMPROVEMENT of PERINATAL CARE TRAINING OF DATA COLLECTORS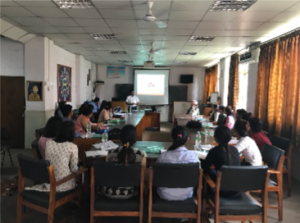 The Data Collectors' Training was held at Patan Academy of Health Science (PAHS) in Lagankhel, Lalitpur from 17-27 June 2017. A total of 40 data collectors were trained for 7 days in two batches. The training included 3 days of theory classes followed by 4 days of practicals wherein the data collectors would collect data in different shifts. The data collectors were chosen from different health backgrounds (staff nurses, bachelor of nursing and health assistants) through a competitive selection process. The training was organised by Lifeline Nepal and trainers were available from Child Health Division, UNICEF Nepal and Lifeline Nepal. Clinical guidance was provided by PAHS.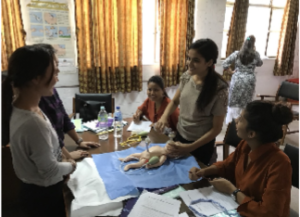 The purpose of the training was to orient data collectors on the importance of data for the Nepal Perinatal Quality Improvement Project (NePeriQIP) and to capacitate them to collect data through extraction, interview and clinical observation. The training package included a brief orientation about NePeriQIP and the need of quality improvement in perinatal care. Besides, different aspects of data collection were oriented to the data collectors.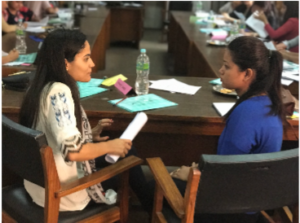 The data collectors were trained in Data Extraction, Exit Interviews (including Social Autopsy) and Clinical Observation. Theory classes were supplemented by group works, simulations (using NeoNatalie) and video sessions.
Data collection tools were developed before the training and used for pre-testing during the training period. A total of 6 forms were used during the training:
A. Form 1 – Registry Data
B. Form 2 – Client Exit Interview
C. Form 3a/3b – Social Autopsy
D. Form 4 – SNCU/NICU Registry Data
E. Form 6 – Clinical Observation
Case scenarios and simulated patient files were used for practice before the data collectors were allowed to collect data with real patients during the 4 days of practicum. An evaluation criteria was developed to assess the efficiency of the data collectors.
QUALITY IMPROVEMENT FOR PERINATAL CARE TRAINING OF FACILITATORS AND MENTORS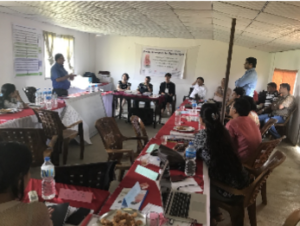 A total of three Training of Facilitators and Mentors have been completed (5-11 June 2017, 4-10 September 2017 and 10-16 December 2017) with 29 health workers (Paediatricians, Gynaecologists/Obstetricians, Medical Doctors and Nurses) from 9 public hospitals (Western Regional Hospital, Mid-Western Regional Hospital, Bardiya District Hospital, Bharatpur Hospital, Seti Zonal Hospital, Nuwakot District Hospital, Koshi Zonal Hospital, Rapti Sub-Regional Hospital and Nawalparasi District Hospital) and 1 Mentor (Neonatologist) trained over the period. The training was organised by IMNCI Section, Child Health Division (CHD) and supported by UNICEF Nepal, Uppsala University, Lifeline Nepal and Kamana Health Nepal. The last batch of training is scheduled for 5-11 March 2018 and will include three hospitals (Lumbini Zonal Hospital, Bheri Zonal Hospital and Pyuthan District Hospital).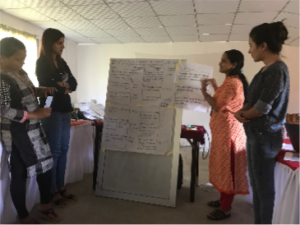 The major objective was to orient them on the PDSA approach in improving perinatal health while also enhancing their skills on neonatal resuscitation (Helping Babies Breathe – HBB), KMC, breastfeeding and infection prevention & management. The training included face-to-face teaching-learning sessions, video sessions, simulation exercises and role play for a better participation and understanding of the QI approach.
The seven-day training will help in facilitating the QI process in respective hospitals. The QI Facilitators will develop a tentative plan of action for the set of activities they will be doing in their respective hospitals. The plan will include a two-day Causal/Bottleneck Analysis Workshop and Capacity Building Training of Health Workers for all health workers working in perinatal units.
CONSULTATION WORKSHOP ON MODEL FOR QUALITY IMPROVEMENT FOR STANDARD NEONATAL CARE IN HOSPITALS OF NEPAL
Park Village Resort, Budhanilakantha, Kathmandu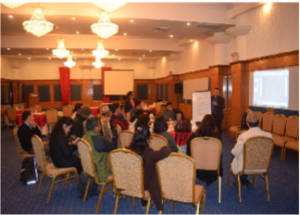 The two-day consultative workshop was held in Park Village Resort, Budhanilakantha on 15-16 March 2017. The workshop was organized by Lifeline Nepal and supported by UNICEF Nepal. Participants included concerned government agencies (Child Health Division, Family Health Division, Management Division), multilateral, bilateral and non-government agencies.
The objectives for the workshop were:
To build consensus on implementation approach of Quality Improvement Cycle (QIC) for neonatal care in hospitals.
To finalize interventions of QIC for neonatal care in hospitals.
To finalize the Implementation Guideline: QIC for neonatal care.
Presentations were done regarding current neonatal health status of Nepal, government initiatives towards improving neonatal morbidity and mortality, global and regional scenario, current activities for QI and implementation model for QI in hospitals. A draft version of implementation guideline was shared among the participants for wider discussion regarding the implementation approach.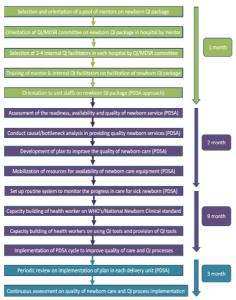 With three stages of implementation (inception, implementation and sustainability), the participants were divided into two groups for discussion and feedback regarding the modality and intervention approach as a whole.
The workshop was crucial in building consensus regarding strengthening of existing QI structures rather than forming a new one. A QI framework was finalized based on the feedbacks from the participants.